Greggs and Data HQ take home the 2017 Best use of the Apteco Marketing Suite award
Posted: 22 Nov 2017
Greggs and their Apteco partner Data HQ were announced as the winners of the 2017 Best use of the Apteco Marketing Suite award at Apteco's user group conference on Friday 17th November 2017.
Over 350 of Apteco's partners and clients attended the annual conference and had the opportunity to vote for their favourite entry. In second place came Everton Football Club with their partner Qbase, followed in third place by the IFL Forum and partner Adroit.
Working with Data HQ, Greggs, the UK's leading bakery food-on-the-go retailer, have revolutionised their marketing and business analytical capabilities with the introduction of the Apteco Marketing Suite, allowing them to get closer to their Greggs Reward customers.

Everton FC and Qbase demonstrated how they set out to win the hearts and minds of fans, to build the Club's fan base, grow season ticket holder loyalty and ultimately ensure a full stadium at Goodison Park using insight from their Apteco FastStats system.

The IFL (International Fundraising Leadership) Forum and Adroit Data & Insight illustrated how Apteco's FastStats software is at the heart of their solution being used globally by hundreds of fundraisers to better understand the dynamics in their market and how they compare against similar organisations. 

The award is to celebrate the effective use of the Apteco Marketing Suite to drive marketing activities, improve the customer experience and to reward those who have delivered measurable benefits to their organisation as a result. The Apteco judges initially selected the top five entries that excelled above the others in demonstrating effective and skilful use of the Apteco Marketing Suite. The finalists also included The NEC Group with CACI and Canon UK with Dun & Bradstreet.


Additional points were then allocated to each of the entries based on peer appraisal by delegates at the conference. All delegates were given the opportunity to vote for their favourite entry following an informal networking session and short ten-minute presentation from each of the finalists.
Apteco Managing Director, James Alty comments: "Congratulations to Greggs and Data HQ on winning the best use of the Apteco Marketing Suite award. It was a particularly strong field this year with B2B as well as B2C entries, with examples of use that covered the world as well as the whole remit of marketing activities. Greggs and Data HQ have done great work building a better understanding of their customers through the app and reward programme and using this insight to help the business refine its activities. I'm sure this relatively new project will go on to deliver significant benefits for Greggs for years to come".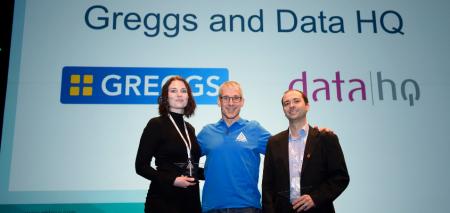 Photo: Angela Thoresen, Data Insights Manager, Greggs, James Alty, MD, Apteco and Tom Eburne, Head of Insight and Analysis, Data HQ
Melanie Davis, Marketing Manager at Apteco comments: "Competition for this award is particularly vigorous, as not only do the finalists have to impress the Apteco judges, they also have to persuade their marketing peers to vote for them at the conference. Our 2017 award finalists clearly demonstrated how their creative use of the Apteco Marketing Suite over the past 12 months has contributed to the customer experience and as a result to the commercial success of their organisations. Congratulations to all our 2017 finalists!"