Apteco launches exciting campaigning solution in Apteco Orbit
Posted: 07 Mar 2023
Apteco are excited this week to announce the launch of their new campaigning solution in the Apteco Orbit platform.
Apteco's end-to-end actionable insights platform, Orbit, offers users one place to connect data and channels, build interactive dashboards to visualise and analyse data, target and refine audience lists, and trigger email campaigns all powered by Apteco FastStats and Apteco PeopleStage functionality.
The launch signifies Apteco's first step towards developing a fully comprehensive campaigning solution in the Apteco Orbit platform. The new functionality allows users to build single-stage campaign journeys and features a new cleverly designed interface to make the process user-friendly and as intuitive as possible. Apteco have spent time conducting extensive user-research to ensure that functionality is recognisable and familiar to marketers, ensuring that the process of creating new campaigns, adding audience lists, and then broadcasting and monitoring those campaigns can be done with little or no training. Apteco have also invested in creating thorough help notes so that should users need practical step-by-step guidance, it is available 24/7.
As product manager for the Apteco Campaign Team, Liz Walker has been responsible for driving this new functionality forward and hopes that marketers will love it.
"We are really excited about the release of this new feature, but we won't be stopping here. Building campaign journeys is just one small step, but it's a giant leap for Orbit campaigning!  The new functionality allows single stage automated campaigns to be created, scheduled and executed in Orbit using a range of channel options. It is a stepping stone towards trying to satisfy our campaign aspirations for Orbit. Going forward Apteco will keep working hard to give marketers the best experience possible when using Orbit for their campaign needs."
How Apteco's new campaigning technology works
The new campaign building technology adds to the powerful analytics and targeting capabilities already in Orbit, completing the circle of 'insight into action' and allows users to easily create and manage campaign journeys within the campaign area in Apteco Orbit.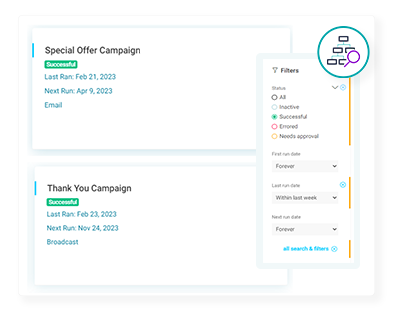 The campaign dashboard screen has also had a make-over and now shows all important information related to a campaign, such as run dates, channels and error and success notifications. New campaigns are opened directly into edit mode so that users can easily start building campaign journeys.
Conveniently, Apteco has included view, edit, save and publish modes. This allows users to effectively 'check-out' a campaign while they are editing it, meaning that other colleagues cannot edit the same campaign while they are busy with it. The 'save' function saves any changes and allows the user to continue editing, whereas the 'finish editing' function saves the changes and places the campaign back in 'view mode'. Once a campaign is complete and approved it can then be published.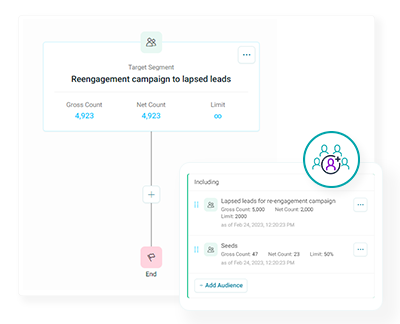 Users can also add multiple audiences to their campaigns – either for inclusion or exclusion – which are automatically de-duped. Priority can be set by simply dragging an audience up or down the list.  Both gross and net counts are updated and displayed at audience level, segment level and journey builder summary level.
Conveniently quantity at percentage limits can also be set in the audience panel. Quantity limits can be set for the whole campaign, or at audience segment level and can also be applied per run for recurring campaigns that are scheduled per day, week, month and so on. Percentage limits can also be applied in a similar way using a random sample of the data and can be applied per run but are not available for recurring schedules.
The new journey gives users the option of choosing either email or more traditional offline fulfilment channels. Currently users have a choice of FTP and file options for sending data to a call centre or mailing house for example. When building an email journey, Apteco conveniently integrates with over 25 ESP's so users can select their preferred ESP and choose the required message to trigger their email campaign. Personalisation can also be added at this point. Both text fields and variables can be added to personalise content. Importantly users are also able to preview emails and send a test directly to their inbox, in order to check the personalisation and email content is correct before they send it.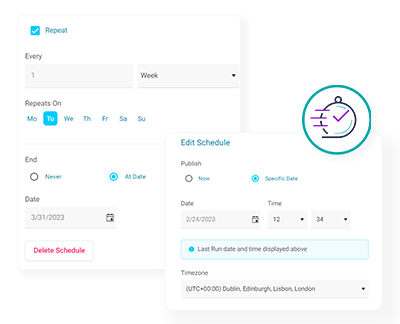 Another useful feature is the scheduling functionality. This allows users to automate their campaigns to run at a set date, time, and time zone and recurring schedules can be set-up to run on a daily, weekly, monthly, quarterly or even yearly basis. This functionality is critical to the marketing process and allows marketers to automate campaigns to run at optimal times when open rates are highest for example, while they are then free to tend to other valuable tasks.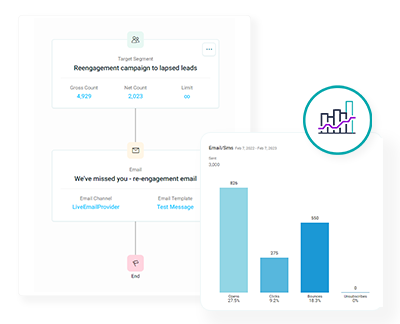 No campaigning solution would be complete without performance monitoring capabilities, and Apteco Orbit is no exception. Communication history can be recorded and in the campaign monitoring screen, users are able to track important metrics like opens, click-through and bounce rates, channel performance and costs as they happen.
Find out more about building campaigns in Apteco Orbit and view demo videos here, get practical help in the Help hub, or download our step by step guide.