Apteco Australia launched in Melbourne
Posted: 06 Sep 2017
Apteco Australia was launched with an event at the RACV Club in the Melbourne central business district. James Alty, MD of Apteco UK and Ade Ewart, MD of Apteco Australia lead the presentations, following a welcome address by Chris Holtby, British Consul General to Melbourne.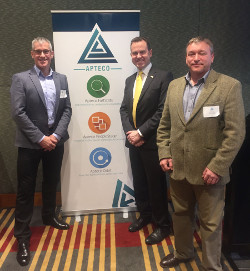 Chris Holtby highlighted the connection between Melbourne's Monash University and the University of Warwick in the UK. Both institutions are leading research Universities and the flow of students, projects and ideas through their global alliance is beneficial for each of them. See https://www.monash.edu/international/monash-warwick. Apteco was founded at the University of Warwick Science Park thirty years ago and now occupies prestigious offices in Warwick town centre.
James Alty introduced Apteco's business and described the team in the UK who produce and support the software. No member of the business has ever left, so every line of code in the products was written by a developer who is a current & permanent employee of the firm. Similarly in the professional services and support arena, Apteco have team members with many years' experience and great expertise in the sector.
James described recent case studies from the annual Apteco FastStats User Group Conference, including Marks and Spencer, where Apteco software operates part of the "Sparks Card" loyalty program; The Financial Times, where Apteco software has been used since the early 1990s and Prezzo, who won the Best Use of FastStats Award for work analysing restaurant customer and
menu data from multiple sources.
James Alty said "We are grateful to the British Consulate for their support as we launch Apteco Australia. The UK will be finding new trading relationships after the Brexit vote and I'm delighted that Australia and New Zealand are now firmly established as part of our operations. I didn't know about the Monash and Warwick University link until Chris Holtby described it, but this link reaffirms my view that the UK and Australia can work really well together."
Ade Ewart presented a summary of the Apteco Marketing Suite which includes Apteco FastStats, Apteco PeopleStage and Apteco Orbit. Ade discussed how Apteco FastStats provides a powerful, drag and drop data analysis, transformation, visualisation and modelling environment which can drive and customise communications through Apteco PeopleStage and Apteco Orbit, the new, browser-based analysis sharing tool that helps communicate insight across the whole organisation.
Ade advised that Apteco would recruit, train and support approved partners, who can then market and deploy the Apteco Marketing Suite for client organisations. Apteco will invest in marketing effort to raise awareness of the Apteco Marketing Suite and generate leads for approved partners. Ade explained that there is no up-front cost for businesses that wish to partner with Apteco - it is simply necessary to be trained on the modules that will be sold.
After the event, Ade Ewart, said "It is really encouraging to receive such a warm and positive response.  Many attendees commented on the opportunities they see for our software in Australia and New Zealand.  I believe that we have the right functionality, at the right price point for this marketplace. We are busy building a great team here in Australia to support our partners, as they deploy the Apteco Marketing Suite."
Apteco Australia welcomes enquires from prospective partner organisations.  For details please contact:
Ade Ewart
Managing Director
Apteco Australia
+61 (0) 2 8355 2524
Follow @AptecoAustralia for news of Apteco and updates on the Apteco Marketing Suite